Good Search Engine Optimization has the power to turn your website upside down and make it rank highly. Many businesses rely heavily on SEO experts to help rank their websites and get them to the top of the search results. According to Internet Live Stats, Google receives 13 billion search queries daily, almost double the world's population. This staggering number demonstrates just how crucial SEO is for your website because only SEO can provide your website the opportunity to show up when search queries are made. 
What is An SEO-Friendly Website? 
An SEO-friendly website offers Google and other search engines the opportunity to crawl every web page efficiently, interpret the content easily, and add it to their search index. In simple terms, an SEO-friendly website has coherent content that can easily be interpreted by search engines and can be indexed in the search database. 
Why is Search Engine Optimization Important? 
One of the most important reasons SEO is crucial for your website is that it makes it more accessible and visible to people. This leads to more footfall from the users on your website, which ultimately increases your website's engagement and helps you generate profit. Besides being on top of the results, SEO also increases the credibility of your website. When your website pops up at the top of the search results, the audience will trust you more than any other website placed below you in the search index. 
Advantages of SEO-Friendly Website
SEO plays a huge role in increasing traffic on your website and generating leads. It is highly necessary for businesses looking to win the target audience's trust online and turn them into consumers. 75% of users never click past the first page of search results. This makes getting on top of the search index much more crucial. Now let us go over some of the advantages of SEO-friendly websites that can contribute to the growth of your business. 
Gets More Clicks:- One of the greatest advantages of SEO is getting more clicks to your website. Getting more impressions and visits on the website is the dream of every business because more clicks increase the conversion rate. 
Saves You Money:- Search Engine Optimization offers a great return on investment and helps you save money. SEO practices are extremely cost-effective and are better than many high-end marketing techniques. 
Generate Quality Leads:- When a user has a query, he goes through the process of inserting the right type of keywords. Once your website pops up on the search index, the user clicks on it. This is how your business receives genuine and accurate leads through quality SEO practices. 
Improves Your User's Experience:- SEO practices not only enhance the quality of the leads you receive but also enhance the quality of the UX of your website. The process of SEO engenders the optimization of the content and visuals of your website, which ultimately gives a better user experience to your customers. 
5 Tips To Make Your Website SEO-Friendly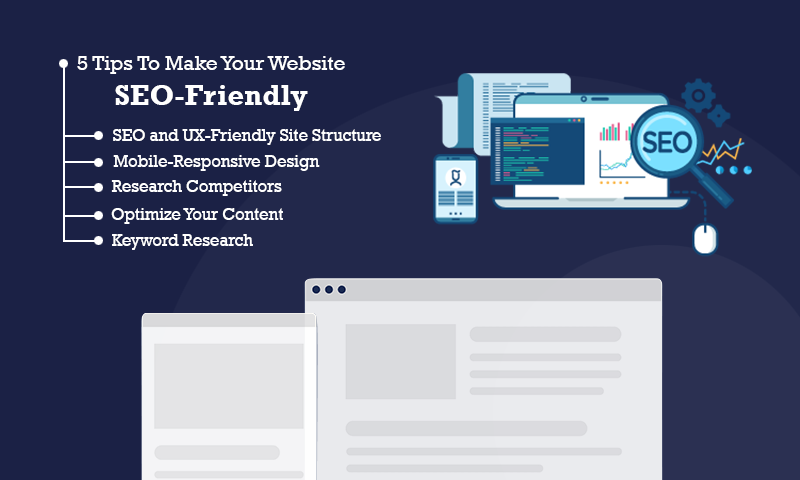 When it comes to designing and developing websites using the most advanced SEO tools and techniques, no one can top EitBiz's website design team. But to save you from making any errors when designing an SEO-friendly website, we have shared five interesting tips to help you make your website SEO-friendly. 
SEO and UX-Friendly Site Structure:- If you want to make your website design SEO-friendly, you must have an SEO and UX-friendly site structure. If you wish for your website to be SEO-friendly, you should befriend menus, breadcrumbs, and footers. A website can only be user-friendly when it is navigable. Make sure your site has breadcrumbs to help the users navigate their activity through your website. Besides breadcrumbs, footers, and menus, you must pay a great amount of attention to the latest web design trends to design a flawless user interface. 
Mobile-Responsive Design:- Sometimes, we don't pay as much attention to a website's capability to fit perfectly into a mobile screen as we should. This leads to an increase in your website's bounce rate because many users rely on their mobiles to search queries. Make sure your website's mobile-responsive design enjoys higher conversion rates. 
Research Competitors:- Carrying out well-structured research can help you greatly. See what your competitors are doing and observe their website's content and visuals to improve your own website's design. 
Optimize Your Content:- Optimizing the content is another important thing you should not forget while making your website SEO-friendly. Clear & concise content can help your website get indexed in the search engine's database. Clear content helps the users greatly and increases your conversion rates significantly. 
Keyword Research:- One of the most useful and commonly practiced SEO techniques is Keyword Research. It is one of the first things that come to mind when speaking of Search Engine Optimization techniques. Keywords can help your website stand out from the rest of the competition if they carry a high volume and a low keyword difficulty percentage.